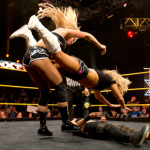 Becky Lynch and Sasha Banks vs Charlotte and Natalya
Becky and Sasha are out first, followed by Natalya and Charlotte. Natalya and Becky start things off, back and forth chain wrestling until Natalya rolls up Becky for a one count. Becky with a elbow to Natalya, and Natalya hits her with forearms. Natalya and Charlotte baseball slide to the outside and Charlotte rolls Becky back in. Charlotte tags in and follows up with a double suplex and covers for a one. Natalya tag back in and hits another double team and covers for a one.
Becky tags in Sasha, and Natalya hits her with a Russian leg sweep. Natalya stepovers Sasha, follows up with a dropkick by for a two count. Sasha whips Natalya into the corner, and sets her up for the double knees for a two. Sasha with a submission hold but Natalya escapes and tags out. Charlotte with chops followed up with a neckbreaker for a two. Becky and Sasha whip Charlotte into the ropes, and Sasha hits a neckbreaker and rolls Charlotte up with a hand full of tights for the win.