In Ring Segment: The IIconics

Kay and Royce make fun of everyone in the crowd. They are all animals. That explains the smell. Kay and Royce make fun of Lynch for the promo she cut last week about being tired of saying she "was". Royce says Lynch is never going to be anything. Lynch is better off being Charlotte's troll of a sidekick.

Becky Lynch vs Billie Kay w/Peyton Royce

Lynch double lege Kay and punches her over and over again. Lynch suplexes Kay. Kay rolls to the outside. Lynch beats on Kay outside the ring. After a distraction from Royce, Kay sends Lynch into the barricade. After the break, Kay chokes Lynch on the bottom rope. Royce chokes Lynch while the referee is distracted.  Lynch manages to get a boot up on Kay. Lynch lands a flying elbow off the top. Lynch floors Kay with a few clotheslines and a dropkick. Suplex for a near fall by Lynch. Lynch takes out Royce with a splash off the apron. Lynch small packages Kay and rolls into the DisArmHer. Kay taps out.

Winner- Becky Lynch

Women's Money in the Bank Ladder Match: Naomi vs Sasha Banks vs Lana vs Becky Lynch vs Alexa Bliss vs Charlotte Flair vs Natalya vs Ember Moon

A huge brawl breaks out. Everyone ends up outside of the ring. Flair sends Moon into the crowd. Lynch dropkicks a ladder into Natty, then Flair. Lynch tries to get a ladder but Moon dives off the barricade and hits a standing senton. Moon slams Natty into the ring steps. Naomi hits the ring but Moon dropkicks her. Banks tries to hit Moon with a ladder but Moon dropkicks the ladder into Banks.  Step up enziguri by Moon. Banks tries to send Moon into a ladder. Moon stops it. Moon tries to send Banks into the ladder. Banks stops it. Moon hits a springboard splash onto Banks on top of the ladder. Lana hits the ring and X-Factors Moon on the point of the ladder. Natty body slam Lana on a ladder. Natty atomic buster Naomi on a ladder. Natty steps on Naomi's back, the hits a basement dropkick. Flair hits the ring and lays into Natty with chops. Suplex by Flair. Flair tries to pick up a ladder but Lynch stops her. Flair and Lynch fight over the ladder. Noami leaps off the ladder Flair and Lynch are holding a clothesline Natty. Naomi dropkicks the ladder into Natty and Lynch. Naomi splashes Bliss on the outside of the ring. Naomi blockbusters Banks on the floor. Moon and Naomi fight over a ladder. While Moon and Naomi are holding it Lynch tries to climb it. Noami and Moon send Lynch into the corner, then hit her with the ladder. Moon and Naomi dropkick the ladder into Lynch. Naomi Chun Li kicks Moon. Moon hip tosses Naomi onto the ladder. Banks stacks Lana and Moon in the corner on a ladder. Banks hits a leaping knee strike on the both.

Banks tries to climb the ladder. Flair pulls Banks off the ladder. Flair neck breaker Banks. Flair tries to powerbomb Banks onto a ladder in the corner. Banks lands on the ladder and start to climb. Banks hits Meteora on Flair and Lynch. Bliss obliterates Lynch with a right hand. Lynch pulls Bliss off the ladder. Lynch and Banks fight on top of the ladder. Lana sets up a larger ladder next to the carnage. Moon starts to climb as well. Everyone is trying to climb over each other to get to the contract. Flair powebombs Moon onto a ladder. Flair tries to powerbomb Bliss. Bliss turns it into a sunset bomb. Bliss and Lana each try to climb the ladder. Bliss bad mouth Lana. Lana kicks Bliss in the head. Lana puts Bliss in the Accolade. Lana starts to climb. Naomi jumps onto the ladder. Naomi almost gets the case. Lynch pulls Naomi off. Lynch and Flair fight on top of the ladder. Bliss knocks over the ladder. Flair lands on her feet and spears Bliss. Fliar triers to climb but Banks hits a backstabber. Naomi pulls Banks off. Lana puls Naomi off. Natty pulls Lana off the ladder and electric chair drops her.  Natty tries to climb but Moon dropkicks Natty out of nowhere. Flair spears Moon into the ladder. Lynch exploder suplxes Flair. Bliss tips the ladder over. Bliss climbs the ladder and pulls down the case for the win.

Winner- Alexa Bliss

In Ring Segment: Women's Summit

Paige is in the ring with Charlotte Flair, Lana, Naomi, Becky Lynch. Paige says the women in the ring are the best Smackdown Live has to offer. Paige fully expects one of them to come back with the Women's MITB briefcase. Lana and Naomi argue. Charlotte says she has done everything there is to do. Next, she is going to win the MITB ladder match. Lynch says she was has been the first to do a lot but she is tired of talking about the past. Lynch wants to be able to say she is the now. Not the past. Billy Kay and Peyton Royce come out on the stage and make fun of everyone. Mandy Rose and Sonya Deville also walk out to the ring. Rose and Deville say the talent outside of the ring is way better than the talent in the ring. Lynch, Flair, Lana, and Naomi attack Deville, Rose, Royce, and Kay. Referees break it up.
Naomi, Charlotte Flair, Becky Lynch, Asuka, and Lana vs Mandy Rose, Sonya Deville, Billy Kay, Carmella, and Peyton Royce

Naomi takes Deville over with a hurricanrana. Lana tags in and neckbreakers Deville. Lana gets a near fall. Deville drives Lana into the corner. Carmella tags in and kicks Lana in the corner. Carmella does the moonwalk. Carmella misses a bronco buster. Lana tags in Lynch. Lynch clotheslines Carmella. Exploder by Lynch. Royce tags in an kicks Lynch in the face. Kay tags in. Royce and Kay double team Lynch.

After the break, the heels are taking turns beating down Lynch. Lynch makes the tag to Charlotte. Charlotte clears the ring. Royce manages to catch Flair with a boot. Flair responds with a spear. Flair goes up top. After a distraction by Carmella, Flair misses a top rope moonsault. Deville and Rose each hit running knees on Flair. Deville and Rose try to double suplex Flair. Flair lands on her feet, punches Rose, boots Deville, and tags in Asuka. Asuka hits a missile dropkick off the top. Rose kicks Asuka in the gut. Rose tries her double under hook buster. Asuka reverses it into the Asuka Lock. The IIconics break up the pin. A huge brawl breaks out. Flair moonsaults off the top to the outside onto the heels. Naomi dives off the apron and takes out Deville. Carmella tags herself in and kicks Asuka in the head. Carmella goes for the pin. Lana breaks it up. Carmella dumps Lana out of the ring. Carmella rolls up Asuka. Asuka turns it into the Asuka Lock. Carmella taps out immediately.

Winners- Naomi, Charlotte Flair, Becky Lynch, Asuka

After the match, everyone stares at Asuka, then the MITB breifcae hanging above the ring.

MITB Qualifier: Becky Lynch vs Mandy Rose vs Sonya Deville vs Becky Lynch

Lynch kicks Rose in the gut and tosses her to the outside. Lynch grabs Deville and sends her into the corner. Deville turns it around and lands a few strikes. Lynch hits her jumping rope kick. Rose attacks Lynch from behind. Sliding knee by Deville to Lynch. Rose rolls up Deville from behind. Deville kicks out. Deville yells at Rose. Lynch rolls up Deville. Rose breaks it up. After the break, Rose sends Deville out of the ring. Rose tries to pin Lynch but Lynch kicks out. Rose hits her finish on Lynch Deville sneaks up behind Rose and German suplexes her.

Deville pins Lynch but Lynch kicks out. Deville tries to superplex Lynch. Rose pulls Deville off the top into an electric chair. Lynch dives off the top and dropkicks Rose. Rose and Lynch trade strikes. Lynch almost puts Rose in the DisArmHer. Deville breaks it up. Another sliding knee by Deville. Lynch kicks out again. Rose tries to knee Lynch in the face but Lynch moves out of the way. Rose destroys Deville with the knee. Rose tries to roll up Lynch but Lynch counters into the DisArmHer for the submission victory.

Winner- Becky Lynch

Becky Lynch vs Mandy Rose

Before the match, Paige asks Deville if she plans to go to the ring with Rose. Deville says just because Absolution is dead doesn't mean they won't still have each other's back. Paige tells Deville that she is barred from ringside.

Lynch arm drags Rose. Rose rolls to the outside. Rose get back in the ring and traps Lynch in the corner.  Rose lands a few stomps before dropping Lynch with a dropkick. Lynch gets to her feet but Rose blast Lynch with a high knee. Rose and Lynch trade punches. Lynch tries to lock in the DisArmHer but Rose gets to the ropes. Lynch hits the Becksploder. Lynch tries her corner kick but Rose sends Lynch into the top rope. Rose rolls up Lynch for the win!

Winner- Mandy Rose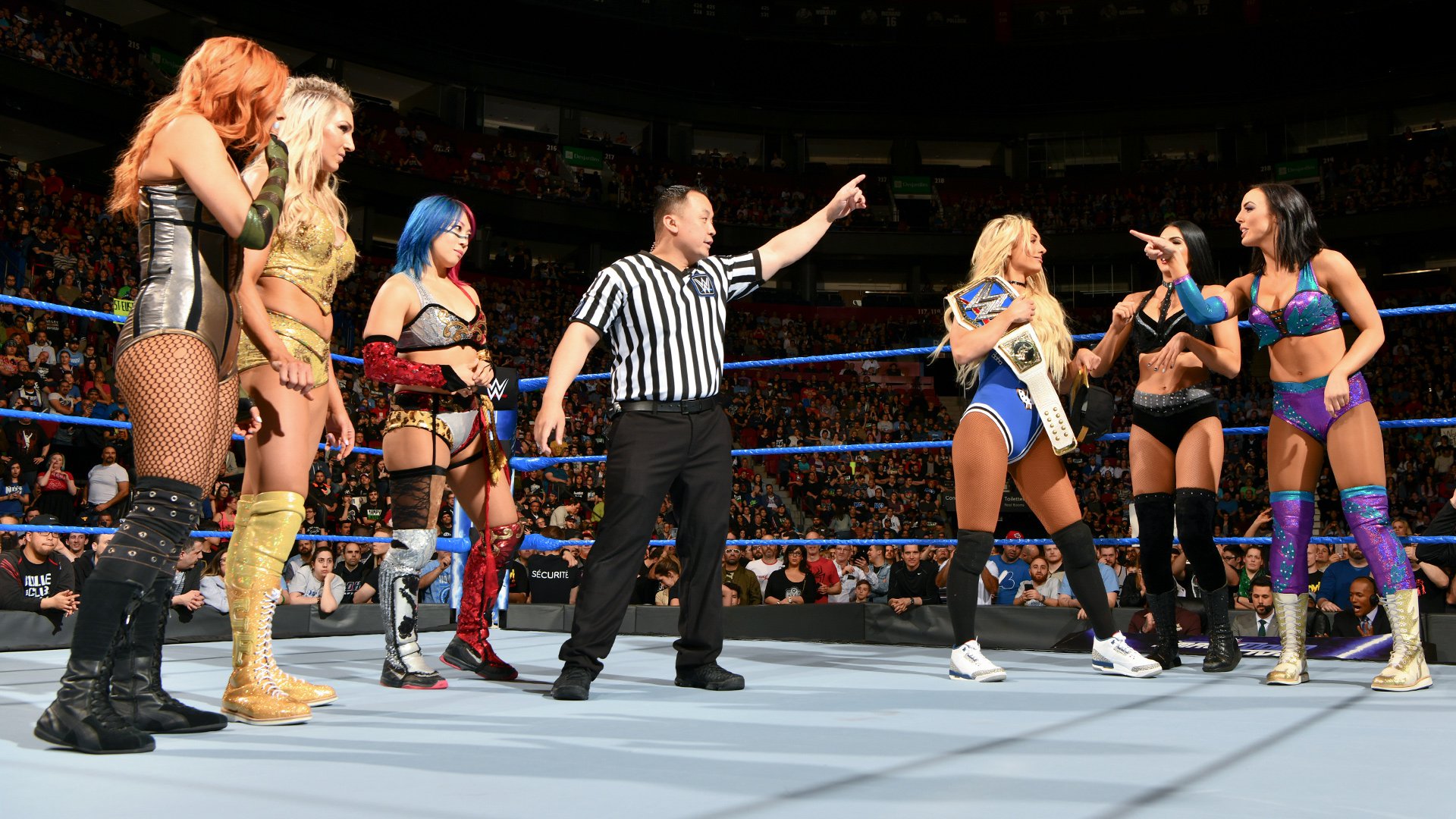 Charlotte Flair, Becky Lynch, and Asuka vs The IIconics and Smackdown Women's Champion Carmella

Carmella runs away from Flair and tags in Royce. Flair tags in Lynch. Royce slams Lynch down by her hair. Lynch takes Royce down by gets distracted by Kay. Lynch recovers and tags in Asuka. Kay tries to run to her corner but Asuka cuts her off. Kay slaps Asuka. Asuka and Kay trade punches. Asuka hits the ropes and obliterates Kay with a running hip attack. Asuka tags in Flair who chops Kay. Kay tags in Carmella. Carmella misses a kick and gets dumped outside. Flair splashes Kay and Royce outside the ring.

After the break, the heels are working over Lynch. Lynch almost makes the tag but the heels pull her partners off the apron. Lynch finally makes it to tag in Flair. Flair clears the ring. Suplexes for everyone! Flair goes up top but Carmella sweeps Flair legs. Flair goes head first into the ring post. Kay hits Shades of Kay. Lynch breaks up the pin. Carmella tags in and hit the Stratusphere for a two count. Flair tries the Figure Eight but Royce kicks her away. Asuka tags herself in and lands a dropkick on Royce. Asuka tries to German suplex Royce but Carmella and Kay hold onto Royce's hands. Asuka lets go and hip attacks Kay and Carmella off the apron. Flair moonsaults off the top rope to the outside onto Kay and Carmella. Royce tries to roll up Asuka but Asuka counters it into the Asuka Lock. Royce taps out.

Winners- Charlotte Flair, Becky Lynch, and Asuka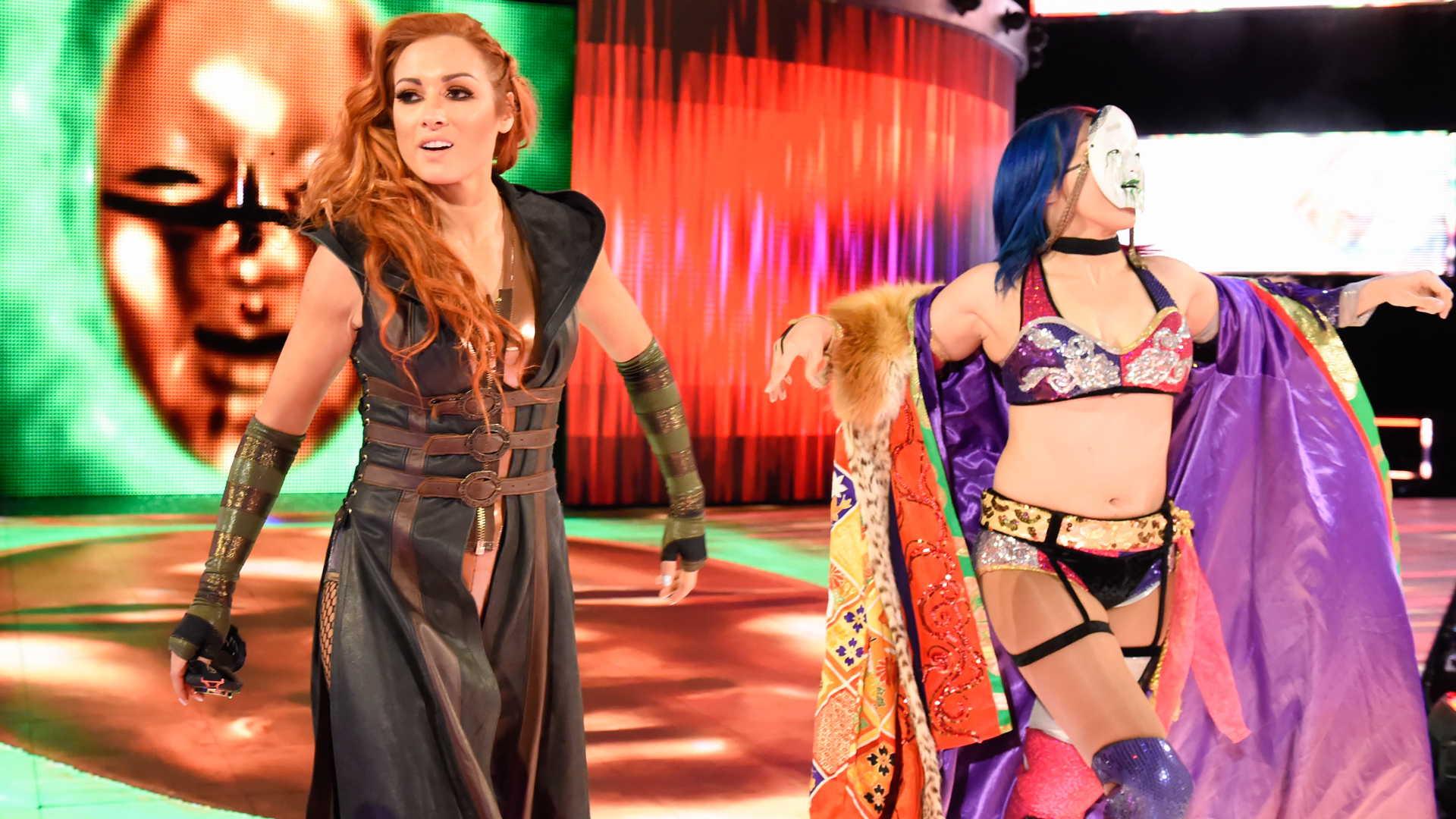 In Ring Segment: The IIconics

Billy Kay and Peyton Royce make fun of Becky Lynch and Asuka for sticking their noses in their business. Based on the IIconics scientific theory because Charlotte beat Asuka, and they helped beat Charlotte, that means they are better than Asuka! Before they could finish, Lynch interrupts.

The IIconics vs Becky Lynch and Asuka

The match started during the break. Lynch catches Royce with a flying elbow block. T-bone suplex by Lynch. Royce tags in Kay. Kay whips Lynch down by her arm. Royce and Kay take turns working over Lynch's arm. Lynch manages to tag in Asuka. Asuka clears the ring. Royce tries to kick Asuka. Asuka catches Lynch's foot and puts her in an ankle lock. Kay locks hands with Royce and tries to pull her out of the ring. Lynch kicks Kay's arms. Asuka German suplexes Royce. Kay sends Lynch into Asuka. Asuka falls out of the ring. Kay sends Lynch into the ring post, head first. Royce rolls up Lynch and puts her feet on the ropes for the win!

Winners- The IIconics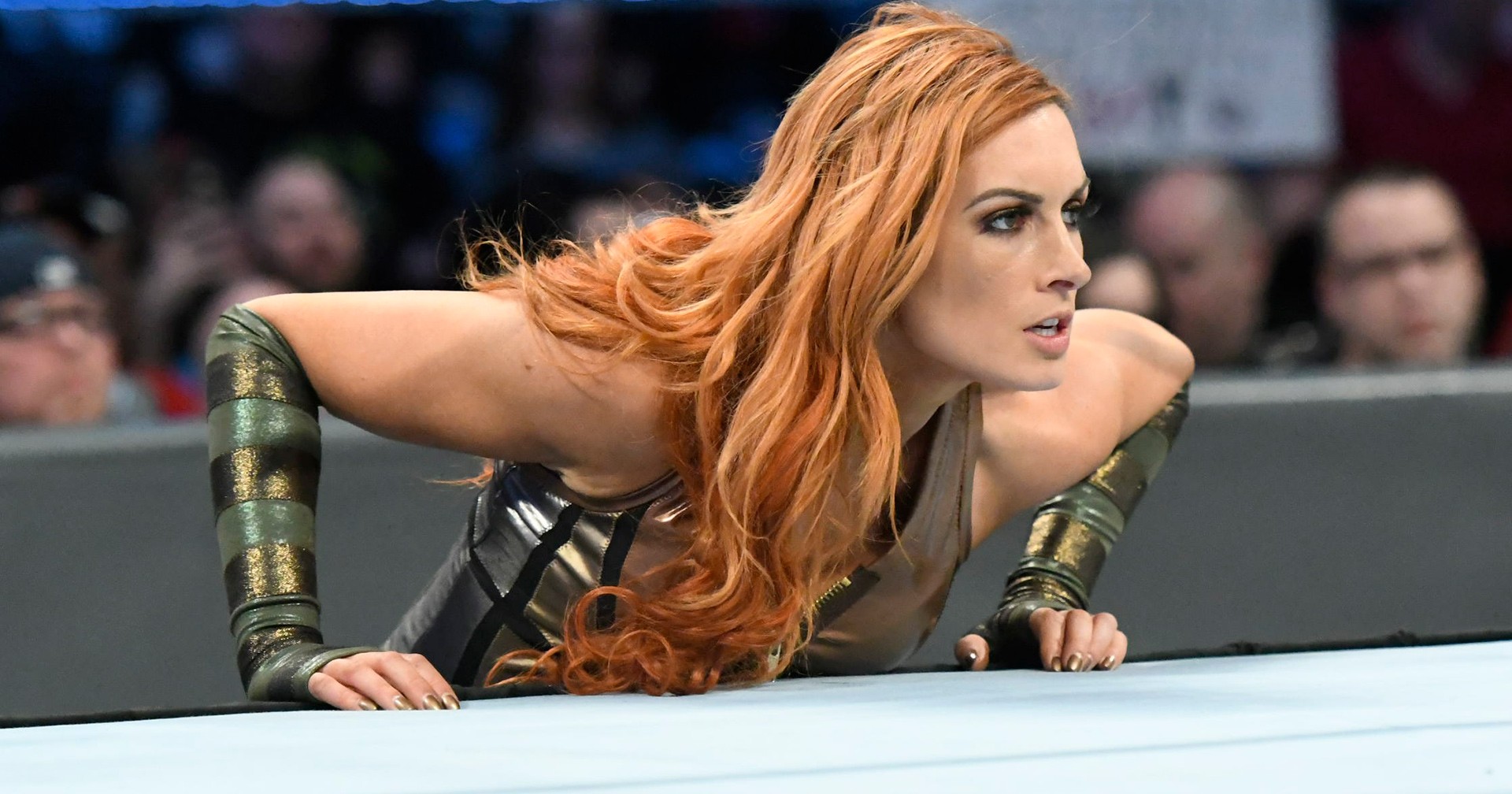 In Ring Segment: Carmella

Carmella says she doesn't want the WWE Universe's cheers. They didn't cheer her before she won the belt so don't cheer her now. Carmella wants to now be called the crowned princess of Smackdown Live. Carmella brags about beating Charlotte Flair for the title all by herself. All she had to do was wait for Charlotte to be blinded by her own ego. Charlotte says to be the woman, you have to beat the woman. Carmella is NOW the woman. Last week was the biggest moment in women's history.

Carmella plays a tribute to herself. Carmella has named the Smackdown Women's title Cleopatra. Flair comes out on the stage and says Carmella's highlight reel is missing James Elsworth, Billy Kay, and Peyton Royce. Flair says she isn't mad. Carmella capitalized on an opportunity. Flair tells Carmella that it's easier to get tot he top than stay on the top. Kay and Royce come out. Kay says Flair is pathetic for blaming them for her failure. Royce does an impression of Flair whining about losing the title. Charlotte attacks Royce and Kay. Becky Lynch comes out and makes the save.
Billy Kay vs Charlotte Flair 

The match started during the break. Flair beats Kay down outside of the ring. Flair sends Kay back into the ring. Suplex by Flair. Kay elbows Flair int eh head and gets a near fall. Kay puts Flair in an armbar. After the break, KAy takes Flair over with a suplex. Flair unloads on Kay with chop after chop. Flair knees Kay in the back of the head, Nature Boy style. Kay surprises Flair with eat'dfeat. Flair kicks out. Flair takes down Kay and puts her in the Figure Eight. Kay taps out.

Winner- Charlotte Flair

After the match, Carmella and the Iconics beat down Lynch and Flair. Asuka's music hits. Asuka makes the save.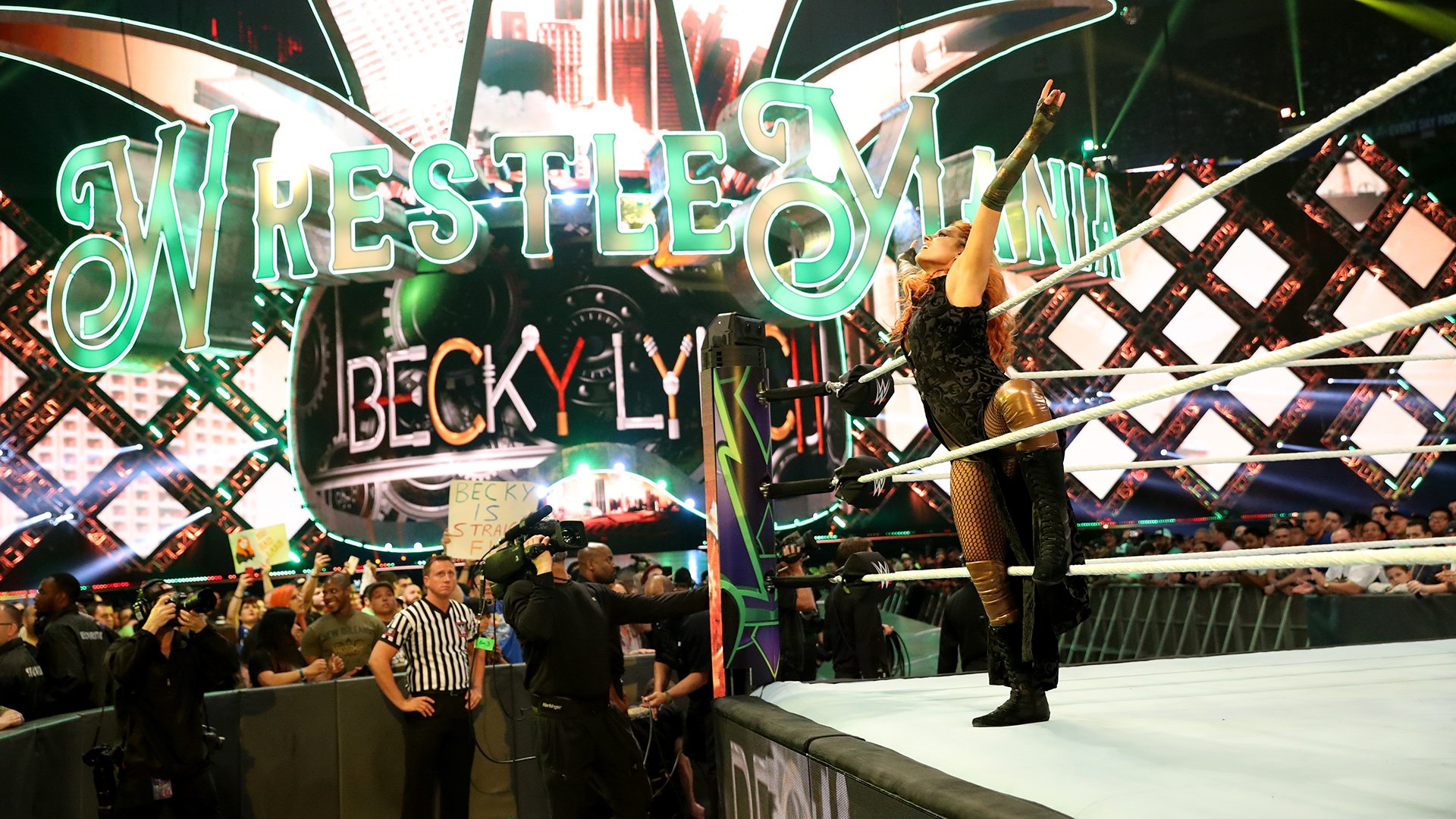 WrestleMania Women's Battle Royal:

Carmella waves the MITB briefcase in everyone's face. Everyone gangs up on Carmella. Carmella is eliminated by a kick from Deville. The next person everyone gangs up on is Dana Brooke. She is also thrown out by everyone. The NXT women start an NXT chant. Mandy Rose is eliminated. Conti slams Dakota Kai. Bianca BelAir hits a 450 on Kai. Kai is dumped over the top. After the break, Deville and Kari Sane have been eliminated. Lana is eliminated. Devi is eliminated. Morgan dropkicks Conti off the apron to eliminate her. BelAir whips Lynch with her hair.

Lynch blast BelAir with a head kick that sends her over to top. Banks eliminates Kai and Lynch. James is kicked off the apron by Riott. Bayley saves Banks from a suplex by Natalya. Banks and Bayley. Bayley saves Banks from being eliminated by Logan. Banks and Bayley are the last two in the ring. Banks goes to shake Bayley's hand. Bayley grabs Banks by the head and tosses her over the top rope! Bayley thinks she has won. Naomi was never eliminated from the match. Naomi hits the rear view on Bayley. Naomi dumps Bayley over the top for the win!

Winner- Naomi

Becky Lynch and Bobby Roode vs. Sasha Banks and Finn Balor

During Roode's entrance, Becky mirrored all of Roode's movements. Roode and Balor starting out with a bit of a stalemate. Roode with a glorious taunt and gets a "too sweet" to the forehead. Both Becky and Sasha want in the ring now. Things get a little heated between the two when Bayley is brought up. Becky does Bayley's taunt and they two swing away at each other. Balor tags in and in comes Roode who tries for a glorious DDT early on, nope, Balor with a cover, two.

Balor brings out a flurry of kicks to drop Roode. Becky and Sasha rallying their partners to get back in the match. Banks with running double knees, cover, two. Becky rallies, near fall. Sasha with a roll-up, two, kick. Sasha charges into the corner, gets booted by Becky. Sasha heads up to the top rope, Becky follows her up and swings away. Superplex off the second rope!

Balor and Roode back in, Balor goes to work finishes with a double stomp. Balor drops Roode, cover, Becky breaks up the pin. Roode tries for the glorious DDT, gets shoved into the corner, Roode up and hits a blockbuster, cover, two. Slingblade by Balor, wants to finish it off, but Sasha wants in and hits double knees on Becky. Becky than lands a suicide dive on Roode. Balor with a dropkick to Roode into the barricade. Sasha heads in to finish off Sasha and Becky with the sneak roll-up for the win.

Winner: Becky Lynch and Bobby Roode via Pinfall (Advance to the finals)

– Post-Match, Sasha and Balor are shocked at the loss. Roode and Becky celebrate in the ring. Kurt Angle heads out to announce the finals and that the winning team's charity will receive 100k. Next week, it will be Charlotte and Bobby Roode vs. The Miz and Asuka in the finals.