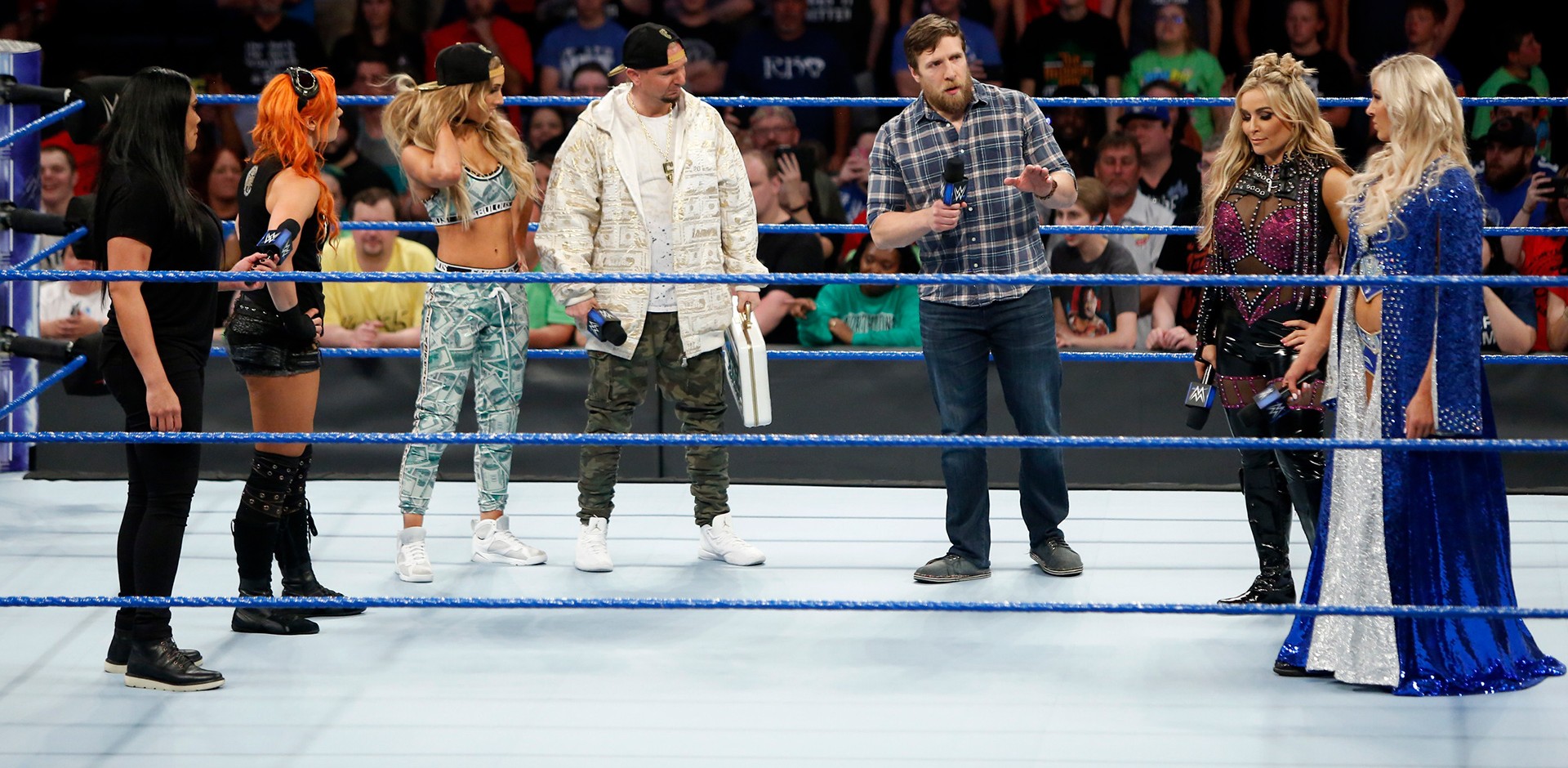 – Natalya, Charlotte, Becky Lynch and Tamina Snuka were all backstage complaining about James Ellsworth ruining the first ever Women's Money in the Bank ladder match on Sunday. Daniel Bryan walked in and listened to their issues before saying that he wanted to hear what Carmella and Ellsworth had to say before he made any decisions.
– Daniel Bryan and Sami Zayn are backstage talking about how awesome his sunset flip off the ladder was on Sunday. Bryan tells him he's in action next week against Baron Corbin. Becky Lynch walks up and cuts an empassioned promo
As we head into the final quarter of Smackdown, general manager Daniel Bryan makes his way to the ring to a great reaction. He says he's happy to be back but wishes it were under better circumstances. Bryan says he's been with Shane McMahon and the Board of Directors trying to figure out what to do about this Women's Money in the Bank controversy, and says he was instructed to keep his emotions out of the decision-making and stick to the WWE Rulebook. He brings out all five of the women who competed in Sunday's ladder match.

After all the ladies make their way to the ring, Bryan says he listened to the opinions of all the women and he's come to a decision. He says Money in the Bank matches are No DQ and there's nothing in the rulebook that says someone else can't climb the ladder and give it to someone else; it's the first woman who holds the briefcase that is the winner. He brings up that there has been outside interference in previous MITB matches, but they are in uncharted territory. James Ellsworth cuts him off and tells him to hurry up and make a decision, because apparently being at home raising terrible little hippy vegan babies has played with his head. Bryan fires up and tells Ellsworth that if he ever mentions his baby girl again he'll punch him in the face so hard he won't be able to breath, and he'll fire him on the spot. Huge pop from the crowd.

Carmella is offended and asks Bryan who he thinks he is talking to them that way. All the women go around cutting each other off and making fun of the way Ellsworth looks. Bryan tells them all to stop, because he's made a decision. He says that Carmella made history by becoming the first women to win the Money in the Bank…and she'll be the first women to hand over the Money in the Bank. Bryan takes the briefcase and announces that next week, there will be a redo of the Money in the Bank ladder match between all five women.

Bryan leaves with the briefcase and all the women immediately start brawling. Natalya and Tamina Snuka get thrown from the ring and Charlotte lays out Carmella with Natural Selection. Becky Lynch puts her in the Disarmher and Carmella flails around crying and screaming as James Ellsworth freaks out from the outside.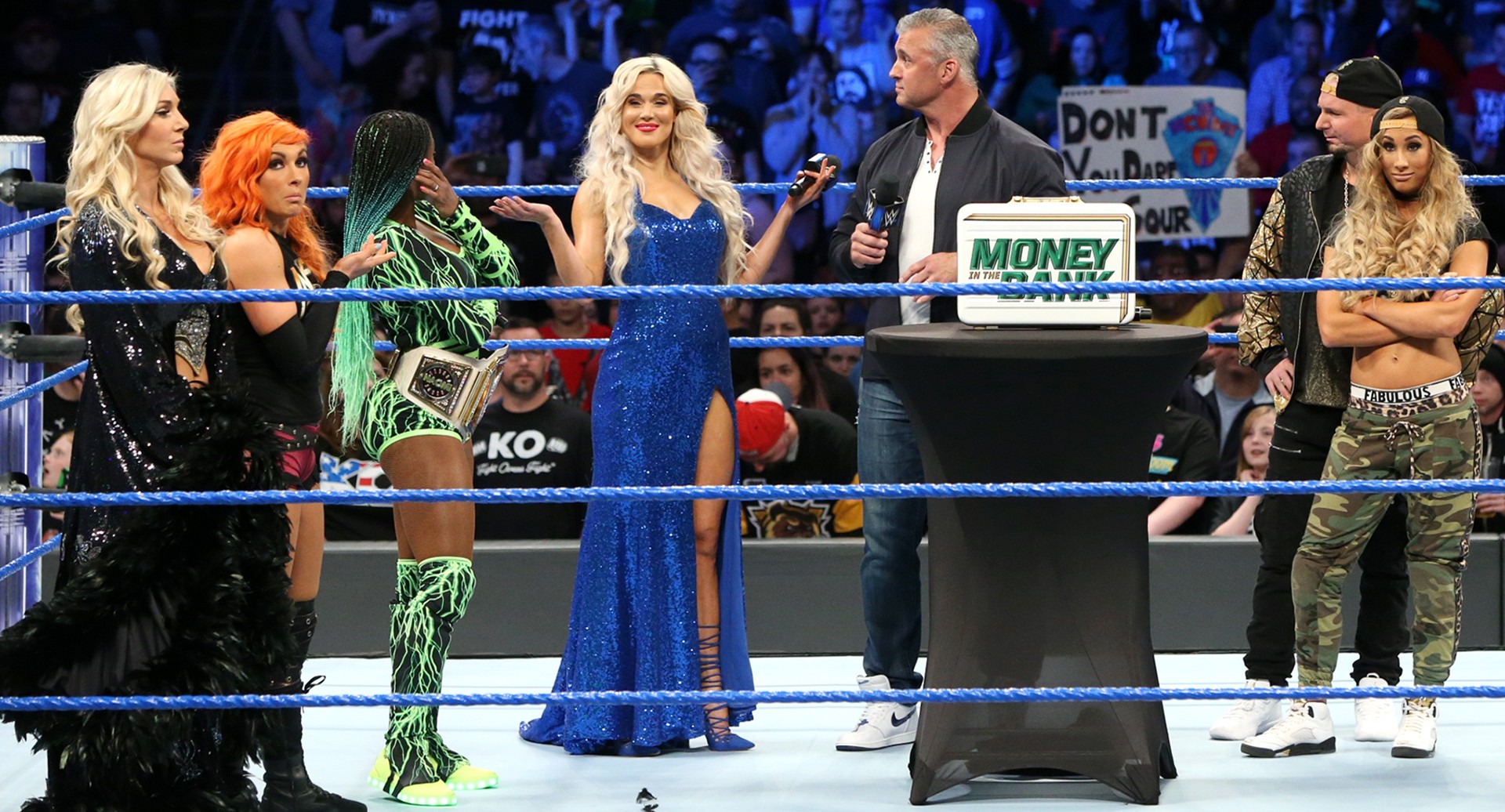 Shane McMahon welcomes us to Smackdown Live, and is joined by all five women competing in the first ever women's Money in the Bank match at this month's pay-per-view. He introduces all five of them individually, before revealing a brand new white MITB briefcase that will hang above the ring. James Ellsworth cuts off Shane and tells him to stop "mansplaining" to all the women how this match works. Carmella tries to speak but is cut off by the Queen. They all go around in circles talking about why they're all going to win; Natalya says Charlotte is ripping off her dad, Becky Lynch says Natalya is ripping off her uncle Brett – pretty much business as usual. Tamina Snuka tells them all they talk too much, and she's going to enjoy shutting them up by winning.

Smackdown Women's Champion Naomi cuts them all off and gets her full entrance. She talks about how big of an opportunity this is for all of them, and wishes she could participate in the first ever women's MITB ladder match because it's going to be "lit". But wait… The Ravishing Russian is here! Lana makes her way to the ring in a bright blue sequence dress, looking ridiculously good, and the crowd greats her with a loud "Lana" chant. Shane McMahon says Smackdown is the land of opportunity, but he's just not feeling this yet. Lana tells him if it works for her, she can make it work for him, and Naomi starts laughing hysterically. She tells Lana she's never beaten anyone, and hasn't even had a singles match yet. Shane tells her she needs to earn her spot, and the Ravishing one storms off in a fit as the crowd boos and chants "we want Lana!"
BECKY LYNCH, NAOMI & CHARLOTTE vs. CARMELLA, NATALYA & TAMINA SNUKA

Carmella starts things off and doesn't fair well against the champion, and fairs even worse as Becky makes the tag and literally wrestles circles around her. The Lasskicker dominates the pace of the match for several minutes until Carmella catches one of her step-up kicks and dumps her hard to the floor. As the referee is distracted, Natalya hits Becky with a clothesline from behind, and the heels take control as we cut to commercial.

During the break, the heels alternated in and out with quick tags to keep Becky isolated. She almost stole the match with a roll-up on Tamina, but took a kick to the head for her trouble. Every time she mounted a comeback the trio would attack her and cut off the hot tag. Natalya spent a little too much time taunting Naomi and got rolled up for a close two-count. Carmella ran in and nocked the Queen off the apron but ran into an elbow from Naomi and finally Becky made the hot tag to the champion. Naomi delivered a flurry of kicks to Tamina and came off the top rope with a flying crossbody. All hell broke loose with a massive brawl, as Lana made her way down to ringside just to add to the chaos. The Ravishing Russian knocked Naomi off the apron while the ref was dealing with the anarchy in the ring, allowing Tamina to pick up the win.

Winners: Tamina Snuka, Natalya & Carmella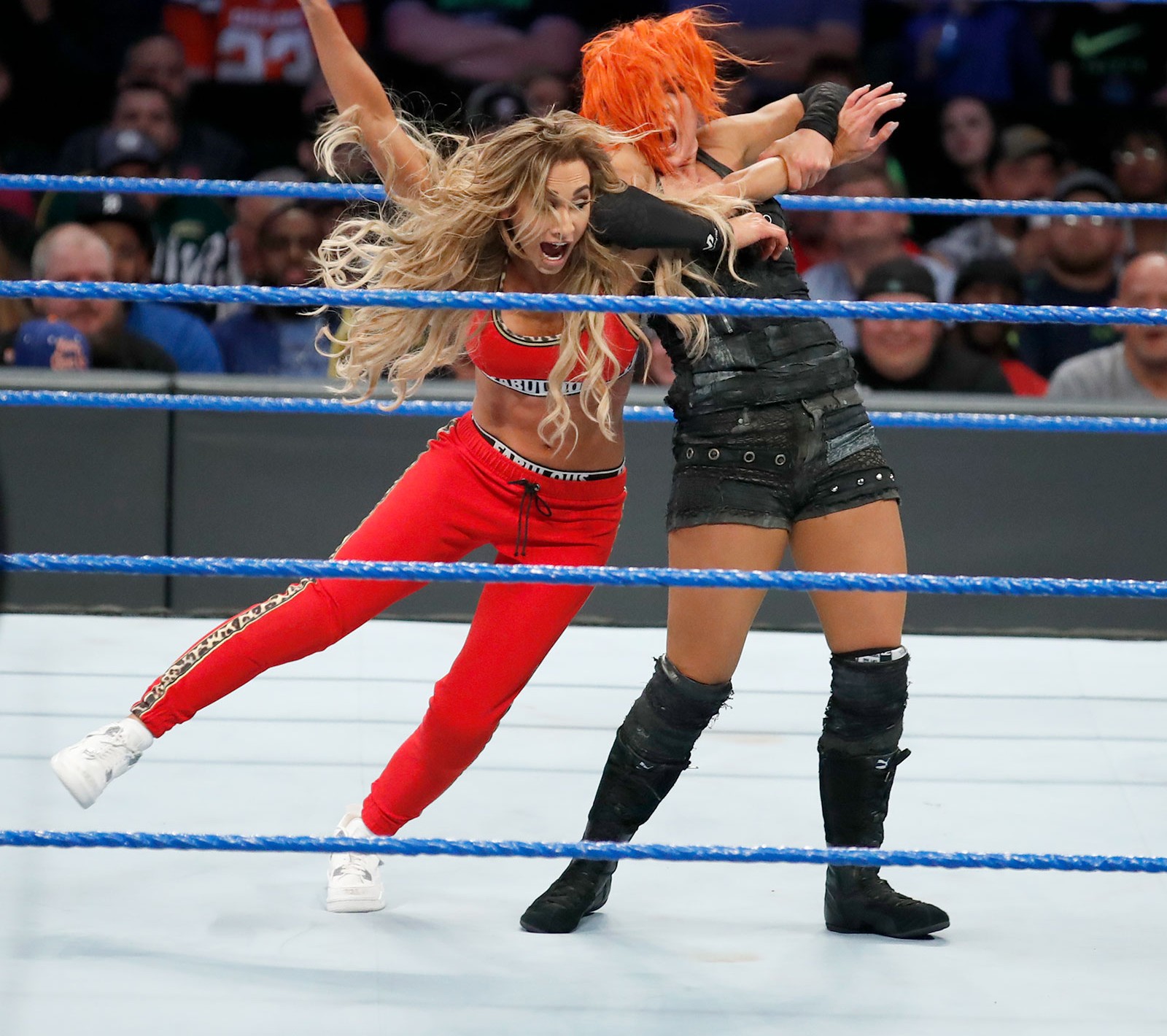 CARMELLA & NATALYA vs. BECKY LYNCH & CHARLOTTE

Carmella and Becky start things off, trading headlocks back and forth. Carmella tries for an armdrag but Lynch rolls her into a pin for two. A brawl breaks out between all four, with the heels getting dumped to the floor to regroup as we go to commercial. Looks like they're bringing back the picture-in-picture display so we can keep watching the match during commercial breaks!

Natalya has Becky in a headlock as they come back from commercial, but she kicks herself free and makes the hot tag to the Queen. Charlotte comes in and cleans house, knocking Carmella off the apron and dropping Nattie with a neckbreaker. She heads up to the top rope, but the heels cause a distraction knocking her down. Becky tags back in and dropkicks Natalya from the ring, but runs into forearms from Carmella. Ellsworth gets up on the apron, but Becky knocks him down and locks in the Disarmher for the submission victory.

Winners: Becky Lynch & Charlotte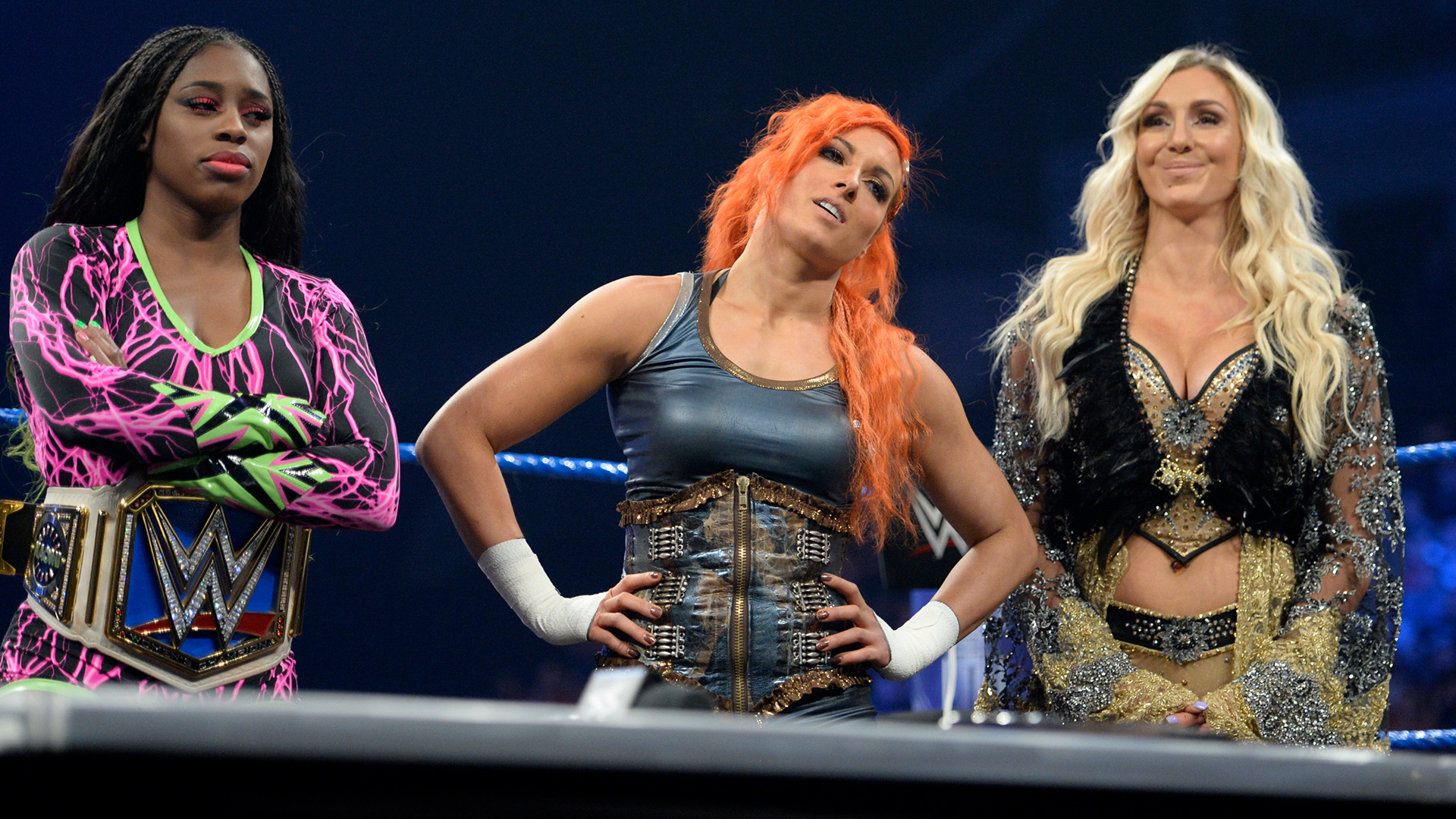 In-Ring: WWE Backlash Contract Signing

Smackdown Commissioner Shane McMahon is out, and asks the Manchester crowd how they're doing. He calls Smackdown the premiere brand of the WWE, before introducing the Welcoming Committee: Natalya, Tamina Snuka and Carmella, with James Ellsworth. He then brings out Charlotte Flair, Becky Lynch, and the WWE Smackdown Women's Champion Naomi. After all the introductions are through, Natalya says it's funny to see the three of them pretending to be best friends. She calls them pathetic, and tells Becky she missed her chance to join the WC. The heels all sign the contract.

Becky Lynch says there was no chance in hell that she would join Natalya and her goon squad, and said she's going to slap the taste out of all of them at Backlash. Naomi says they should be worried about their next hair opponent, because come Sunday she's gonna snatch them all, then says she's gonna snatch Ellsworth's balls. Charlotte is next to talk, and says the WC has done nothing but whine and complain since she arrived on Smackdown Live. She says after they deal with the WC at Backlash, the queen is coming for her crown. Shane says the match is official, but he's cut off by James Ellsworth, who rambles about how much Becky is in love with him. Shane straight up says that he has no idea what Ellsworth is talking about. He goes on to say that Charlotte doesn't have a chance with him either, because he's always going to be the Prince to the Princess of Staten Island. Naomi tries to go after him but Carmella throws her into the table, and Shane gets in between all of them. McMahon makes a match between Carmella and Naomi, right here, right now.
NAOMI vs. CARMELLA

Back from a commercial break (that's three for three) the champion is in control of the match, working over Carmella with rest holds and kick combinations. Carmella gets a brief advantage after going for the hair, but Naomi quickly takes it back with a big kick. James Ellsworth tries to get involved and the referee ejects him from ringside, as we go to yet another commercial break.

After the break, Naomi is destroying Carmella with kick after kick, then did her rapid fire kick spot. Carmella bailed to the outside looking for her man, then faked trying to run away from the match, only to superkick the champion. She rolled Naomi back into the ring and put on a side headlock, then hit a Bronco Buster for two. Back into the side headlock. They jockey for position on the ropes, until Naomi hits a big flash kick, then a sit-down jawbreaker. She heads up to the top rope but is cut off by Tamina Snuka, until the referee ejects her and Natalya from the match as well. The go to leave but instead go after Charlotte and Becky in a big brawl on the floor. Naomi drops Tamina with a kick through the ropes, but Carmella rolls her up from behind with a handful of tights for the pin. Winner: Carmella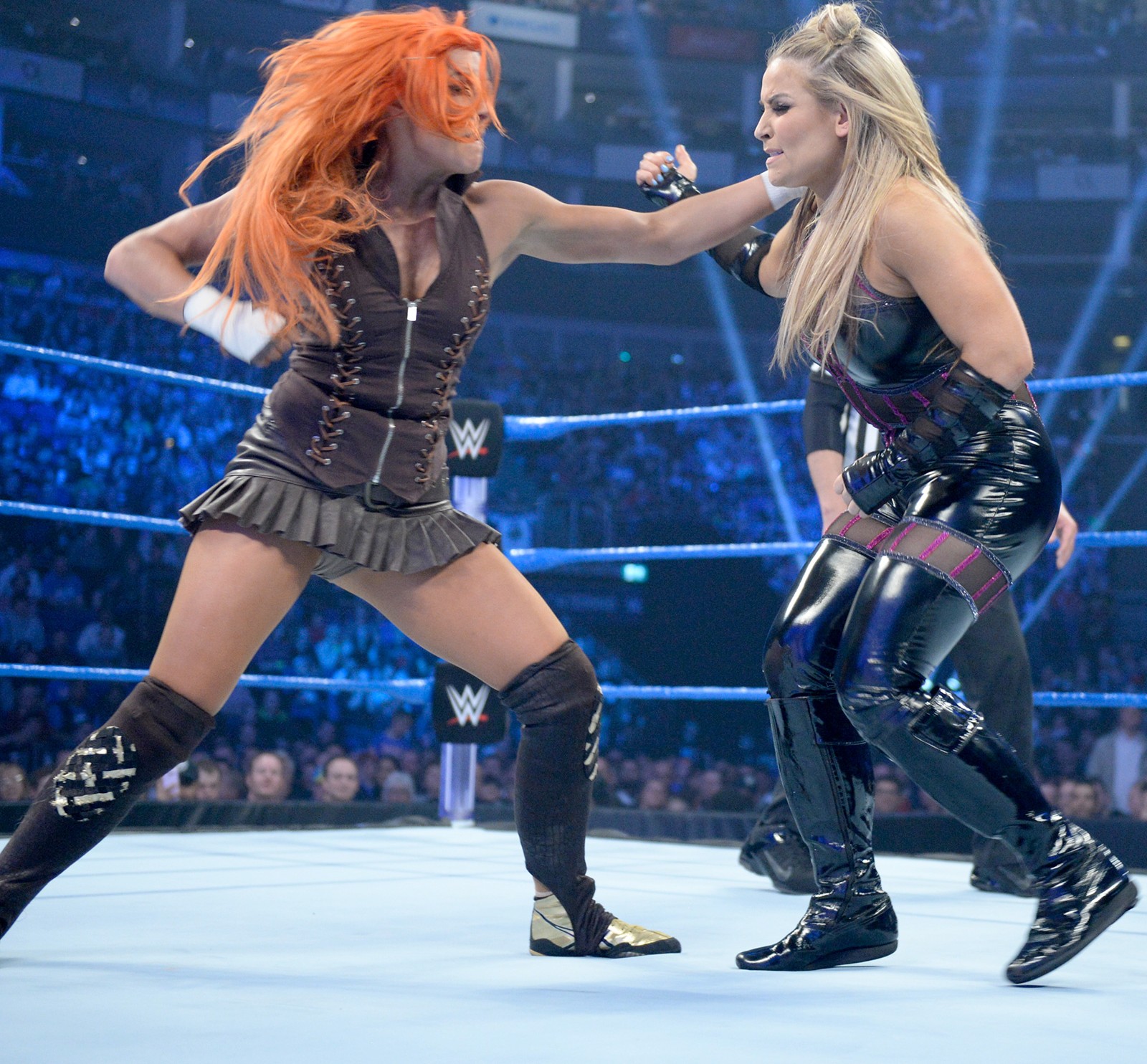 Carmella, James Ellsworth and Tamina Snuka came out to introduce their partner, "the best there is, the best there was, and the best there ever will be", Natalya. James Ellsworth told the crowd to get down on one knee, because they didn't deserve to be on the same level as the Welcoming Committee. Naomi was next out, and did a terrible British accent, telling the crowd to make some noise. She introduced her friend Becky Lynch, who got a decent reaction as the somewhat local-ish UK star. Charlotte then came out last, and said she needed no introduction.

For those keeping track at home, that's five individual entrances and three promos, with Charlotte coming out last for a singles matches she's not a part of. That brings our grand total for the night to ten full entrances, and seven promos, to round out the first quarter of Smackdown Live.

BECKY LYNCH vs. NATALYA

Becky got a good reaction throughout the first portion of the match. They even gave her the  "Tyler, Tyler Tyler Bate" chant, but with her name obviously. This one didn't last very long. Becky started out in control, the brawled to the floor, and Natalya took over. Becky made the comeback a few minutes later with a few clotheslines and a dropkick. She hit an exploder suplex and looked to finish things off, but Tamina got up on the apron to make the save. Naomi went after Tamina and the obligatory brawl broke out. Charlotte pulled Naomi off the heels, and the distraction was enough for Natalya to roll up Becky for the win.

Winner: Natalya
Charlotte was backstage yelling at Naomi, saying that she's the reason Becky Lynch lost. Naomi told her to get out of her face or she'd "snatch her bald", and Charlotte snapped back "or what, you'll glow on me?" Good banter. Becky Lynch came to the rescue and got in between them. She said they're playing into the Welcome Committee's game, and the only way to beat them is to create a bond even closer. Naomi agreed to work together, and Charlotte reluctantly agreed, saying "whatever, I'm the best at bonding".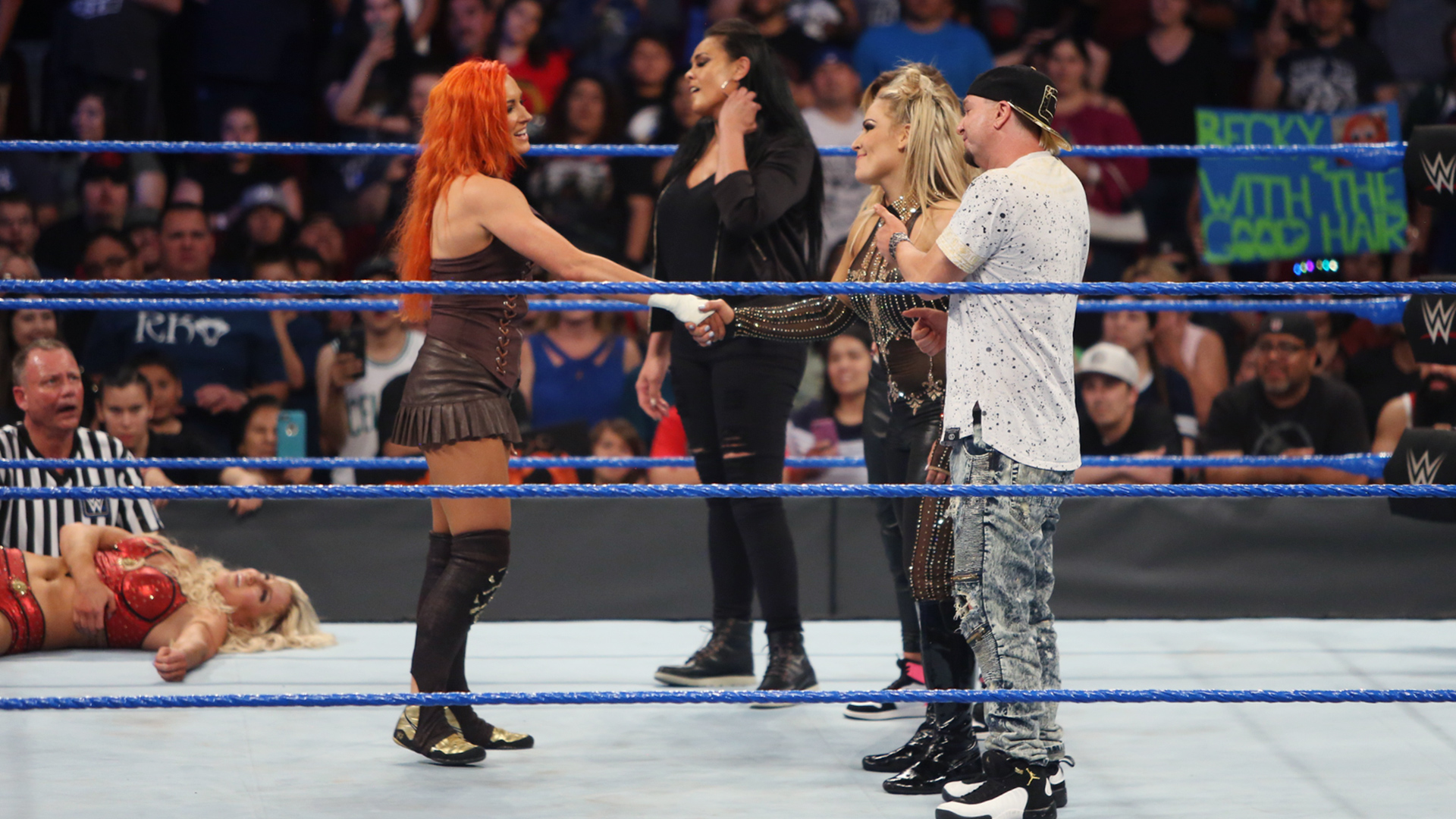 Backstage Segment

Becky Lynch is shown walking backstage, and runs into the gaggle of heels – Natalya, Carmella, James Ellsworth and Tamina Snuka. Natalya says they're just watching out for Becky, and they complain that Charlotte came over to Smackdown Live and was just handed opportunities without earning them. She reminds Becky how many times Charlotte has screwed her over, and asks her to join them in their quest to make Smackdown theirs again. Becky says she never thought about things that way, and promises to think about it.
Naomi & Charlotte Flair vs. Natalya & Carmella

Naomi is going it alone here to start things out. Carmella tries to throw a few kicks but they do literally nothing, and the champ destroys her with a series of her own kicks, followed by her rapid-fire kick spot, then a big spin kick to the face. Natalya tags in and backs Naomi into the corner, throwing her hard to the floor, but is caught with a headscissors takedown to the floor. The champ goes after her, but is caught and thrown into the steel steps. The heels alternate tags to keep the pressure on for several minutes, until Naomi and Natalya collide with crossbodies in the middle of the ring. Charlotte's music hits as both women are down, and Flair slowly limps her way down to the ring. Naomi makes the hot tag and Charlotte clears the apron, taking down Nattie with chops and a neckbreaker, followed by a big boot. Carmella rushes the ring but is easily dispatched with a chop. She starts slamming Nattie into the corner head-first, but the numbers game catches up and the heels take control as we cut to a commercial. When we come back from the break, the rest of the Welcoming Committee (I guess that's what we're calling them now) are suddenly ringside. Carmella missed a Bronco Buster – she seriously hasn't hit a single offensive move with success this entire match – and the champ gets the hot tag. A Rear View lays out Carmella, but Natalya distracts the official. Naomi lays her out with a kick, then lays out James Ellsworth, but Carmella rolls her up for the upset win. Winners: Natalya & Carmella

– The heels rush the ring and beat down Charlotte. Naomi tries to fend them off but it's too much of a handicap. Becky Lynch's music hits and she runs down and… shakes hands with Tamina Snuka. She shakes hands with Natalya and Carmella, then throws James Ellsworth into the group and takes down Natalya. She first up on the rest and clears the ring, but runs into a superkick from Tamina. The heels beat assault Becky while keeping Charlotte and Naomi on the floor, then pose together in the ring.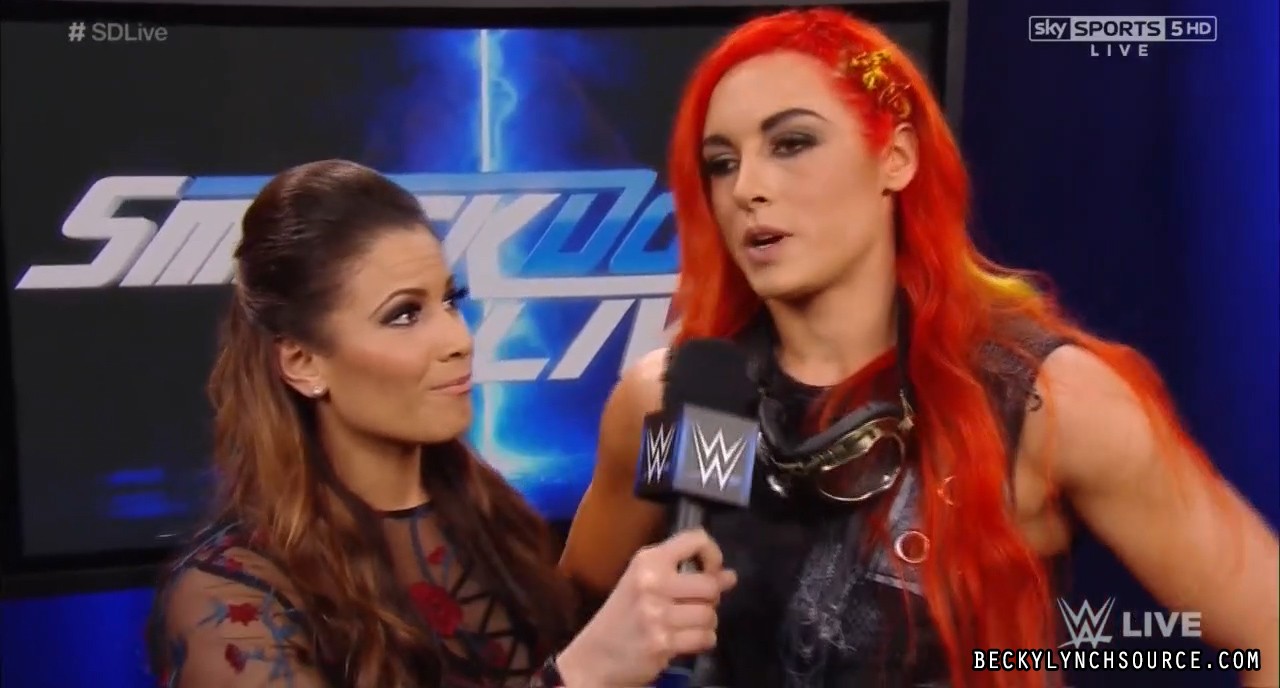 We cut backstage where Becky Lynch is being interviewed about tonight's match between Charlotte and Naomi. She's cut off by all the heels – Natalya, Tamina Snuka, Carmella and James Ellsworth – who say that she's gone back and forth on her stance on Charlotte, and they want to know exactly whose side she is on. They tell her to choose carefully before walking off.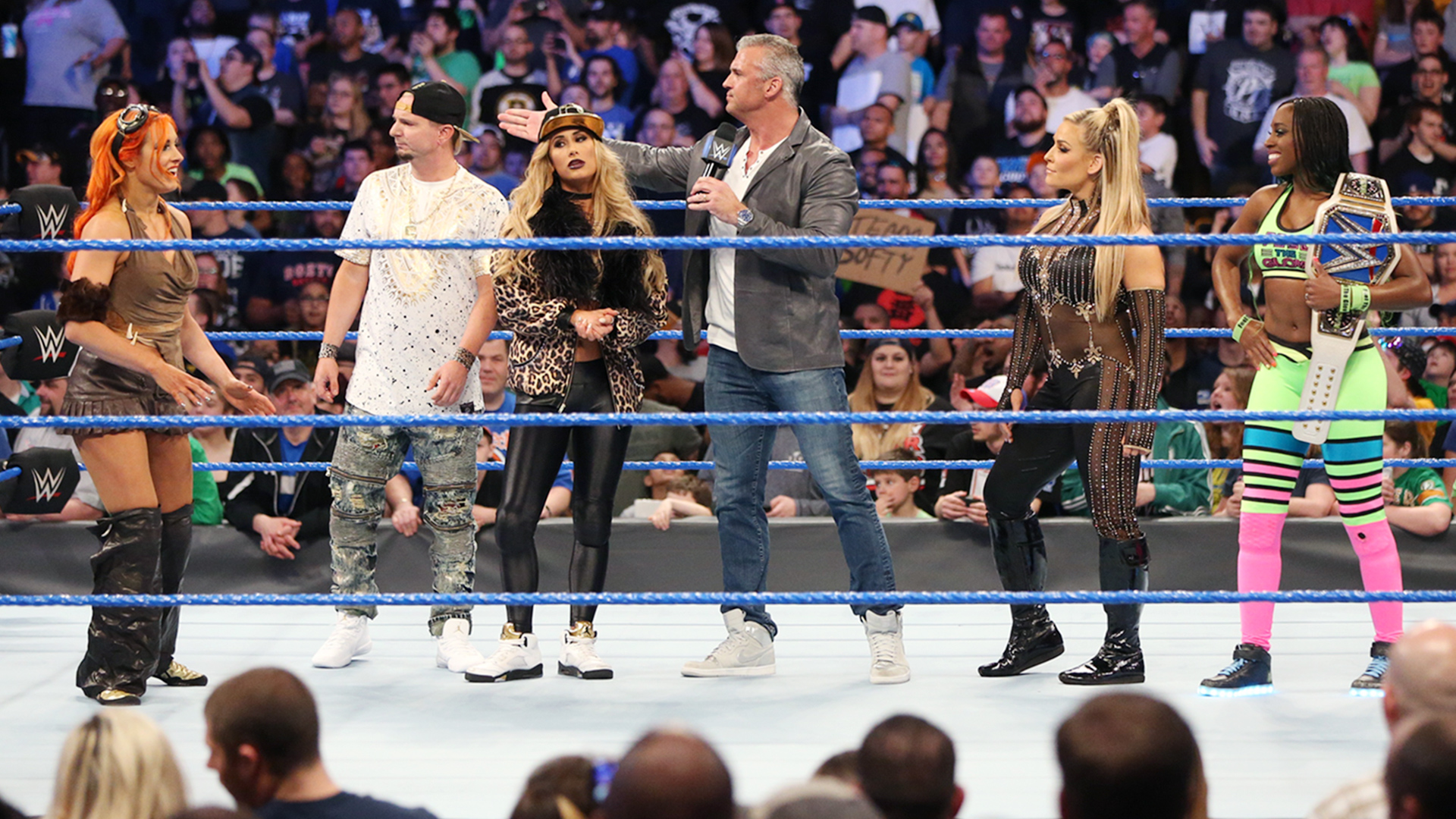 Shane McMahon comes out to a great reaction. He thanks all the Superstars that have moved on to Monday Night Raw for showing the world what the Smackdown Live brand has to offer. He is here to address the state of the Smackdown women's division, after Alexa Bliss and Mickie James moved over to Raw last night. Shane asks the entire women's division to come out to the ring. Naomi comes out first and is introduced individually as the champion, which is pretty cool. She is followed by Natalya, Carmella and Becky Lynch. Shane introduces the first women to come over from the Raw brand. She is a second generation superstar, and her father is one of the all-time greats…. TAMINA SNUKA! Shane isn't done yet, as he announces a second pick… CHARLOTTE FLAIR!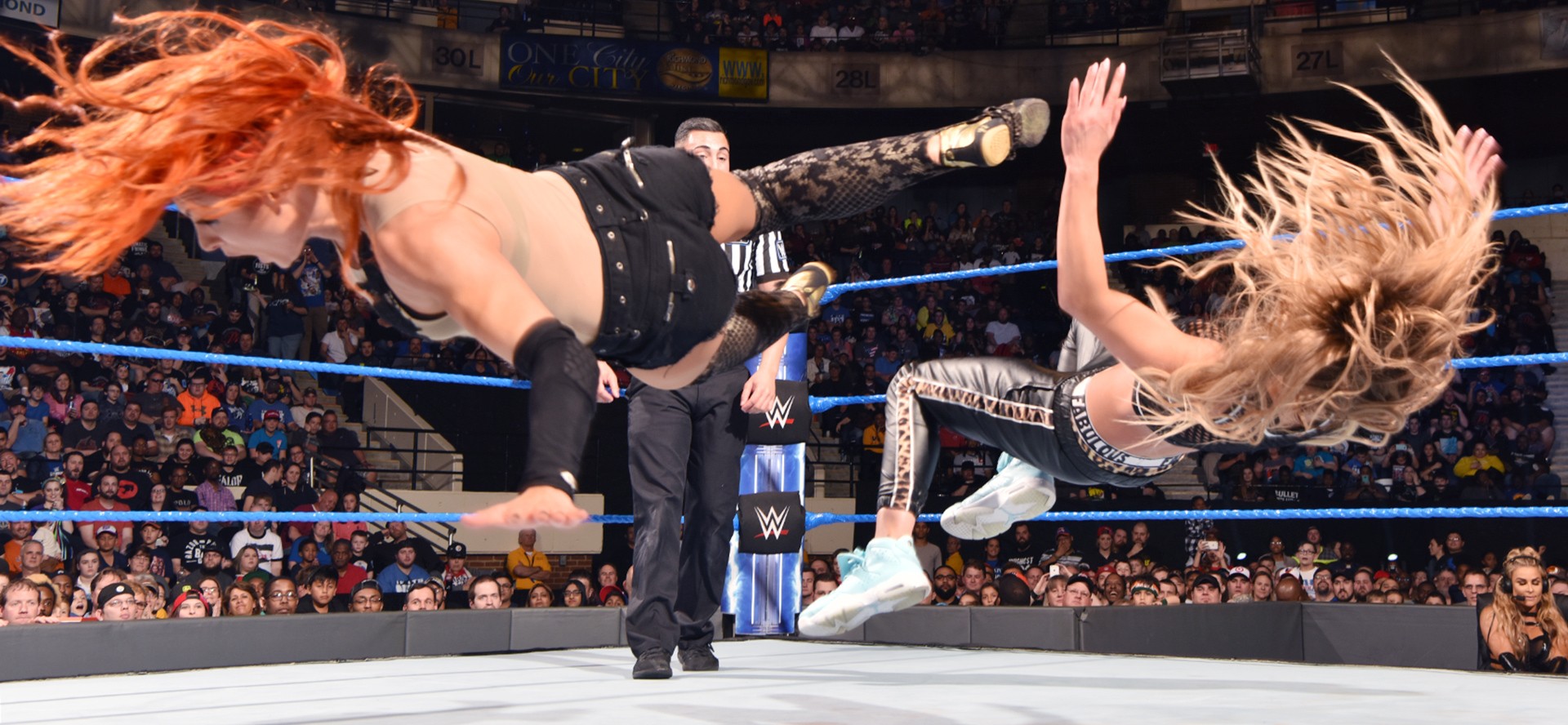 First Match: Carmella w/James Ellsworth vs. Becky Lynch 

Alexa Bliss and Mickie James joins the commentary team for this match. Becky uppercuts Carmella. Carmella with a boot to the ribs of Becky. Carmella lays on the back of Becky's neck. Carmella with a hair whip for a two count. Alexa Bliss says that Mickie is irrelevant. Carmella dropkicks Becky. Mickie James and Alexa Bliss begin to brawl.

Mickie with a flap jack that sends Bliss face first to the ring apron. Bliss rolls back into the ring. Mickie attacks Carmella to cause the disqualification. Becky with a Bexploder Suplex to Carmella. Mickie lays out Bliss with the Mick Kick. Mickie and Becky engage in a stare off. Daniel Bryan announces that Carmella & Alexa Bliss will take on Mickie James & Becky Lynch in a tag team match, right now.

Winner: Carmella via DQ 
Second Match: Carmella & Alexa Bliss w/James Ellsworth vs. Mickie James & Becky Lynch 

Bliss and Mickie starts things off. Mickie clotheslines Bliss. Mickie with a snap mare followed by a basement dropkick for a two count. Mickie with a boot to the face of Bliss. Mickie tags in Becky. Becky with a series of leg drops to Bliss. Becky goes for the cover for a two count. Becky brings Mickie back into the ring. Bliss immediately tags in Carmella. Bliss screams at James Ellsworth. Carmella talks smack to Mickie. Mickie with a leg lariat to Carmella. Mickie knocks Bliss off the ring. Carmella attacks Mickie from behind. Carmella goes into the collar and elbow tie up.

Carmella now lays on the back of Mickie's neck. Carmella with the cover for a two count. Carmella and Bliss begin to cut the ring in half. Bliss applies a rear chin lock. Mickie with a rollup for a two count. Bliss drops Mickie with a big right hand. Natalya comes down to the ring. Becky with a series of clotheslines to Carmella. Natalya distracts the referee. Ellsworth gets in the way of Becky Lynch. Carmella from behind and rolls Becky up to pickup the victory. After the match, Naomi returns and lays out Natalya on the stage. Naomi clears the ring and announces that she'll be entering the SmackDown Live Women's Championship Match at WrestleMania. This Sunday in her hometown, everyone will feel the glow.

Winner: Carmella & Alexa Bliss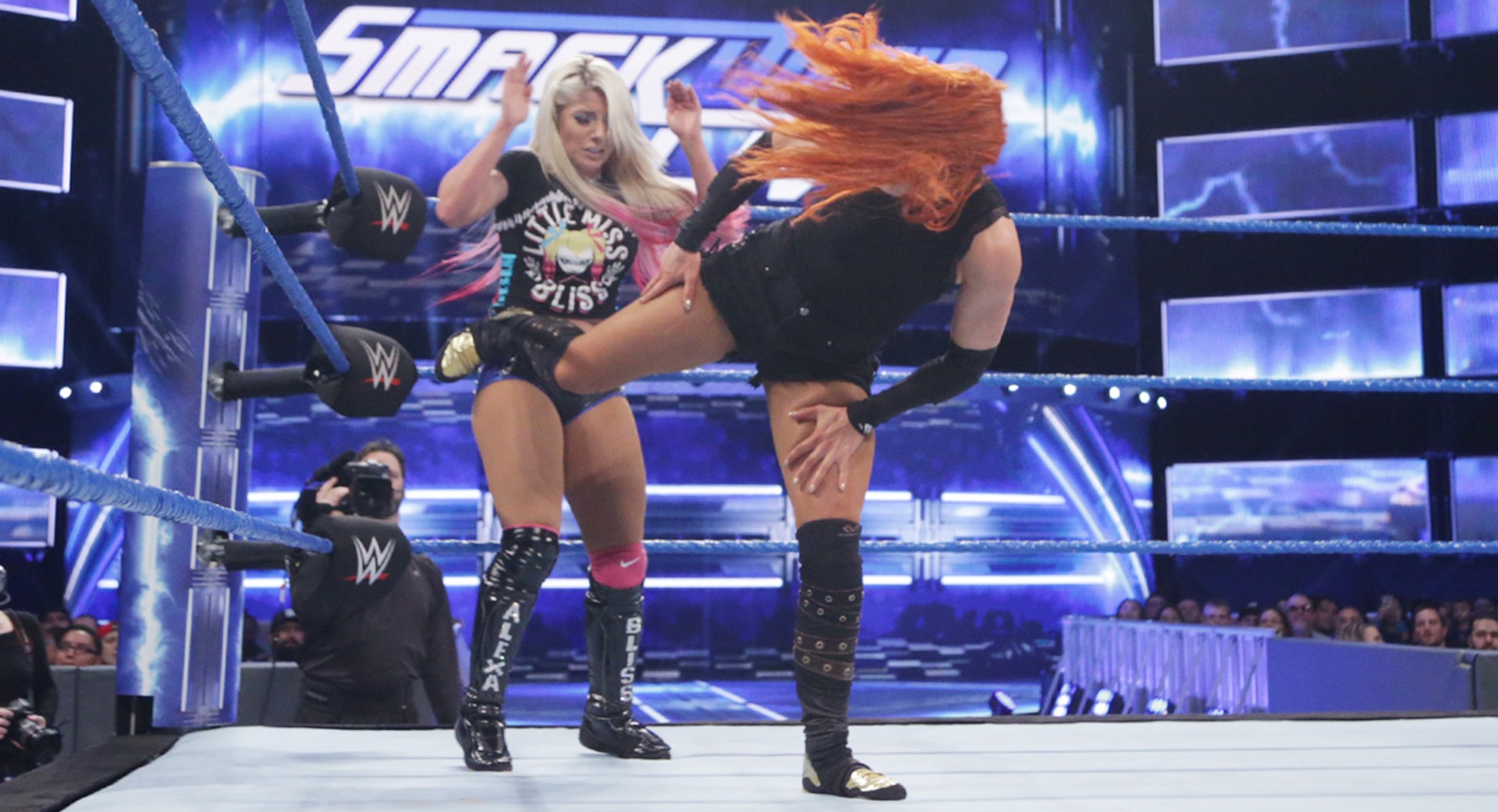 Daniel Bryan, Naomi and Alexa Bliss In-Ring Promo: 

Bryan welcomes us to the show. We're 40 days away from WrestleMania and everybody knows that on the road to the WrestleMania there's so many twist and turns. Bryan introduces Naomi who's sporting a knee brace. Bryan agrees that Naomi deserved to be the SmackDown Women's Champion. It's because for years, Naomi worked so hard even when she wasn't given all the opportunities. Bryan is proud of Naomi. Bryan is about to make one of his toughest decisions as general manager. Bryan talks about his journey to becoming World Champion and getting injured in the process. Bryan and Shane McMahon went over Naomi medical records.

Because of the injury Naomi suffered at the Elimination Chamber, she'll be forced to relinquish the SmackDown Live Women's Championship. Naomi thanks Bryan for the kind words. Bryan understands her situation. Naomi talks about how she was on cloud nine last week and now she feels like she's being knocked off the mountain. Naomi feels bad for her fans who've had her back during this journey. Naomi starts crying. When Naomi gives Bryan the title back that probably means WrestleMania is out of the picture as well. Naomi hands over the title to Bryan. Naomi gets a big round of applause.

Bryan starts hugging Naomi. To whoever is borrowing her championship, when Naomi comes back, everybody will be feeling the glow. Alexa Bliss makes her way to the ring as Naomi was walking to the back. Bliss says that was amazing. Bliss could have gone without the sob stories. It was perfection when Naomi relinquished the title. Bliss wants her title rematch. We're in a jaw right now. Bliss wants the crowd to shut up. She would like to help at all cause. Bliss wants Bryan to give the title to her. As difficult as it was for Bryan to take the title away from Naomi, he's not going to give Bliss the title back. Bryan knows that Bliss wants her rematch. Tonight, Alexa Bliss will take on Becky Lynch for the Vacant WWE SmackDown Women's Championship, right now.
First Match: Alexa Bliss vs. Becky Lynch for the Vacant WWE SmackDown Live Women's Championship 

Becky and Bliss goes into the collar and elbow tie up. Becky with a quick rollup for a one count. Bliss responds with a double leg take down. Becky with an Oklahoma Roll Up, but Bliss kicks out at two. Becky follows that up with an enziguri. Bliss lands a clubbing blow to the back of Becky. Becky drops Bliss with a shoulder tackle. Bliss goes for a hip toss, but Becky counters with a single leg takedown. Becky float overs to a front face lock.

Bliss repeatedly drives her knee to the chest of Becky. Becky with a Bexploder Suplex for a two count. Bliss rolls out of the ring. Coming out of the commercial break, Becky connects with the Straight Fire Forearm. Becky follows that up with a Springboard Side Kick and another Bexploder Suplex for a two count. Bliss sends Becky to the ring apron. Becky connects with a missile dropkick for a two count. Bliss tries to roll out of the ring, but Becky grabs her by her ankles. Bliss with a palm strike to the throat of Becky behind the referee's back. Bliss rolls Becky up with a hand full of tights to pickup the victory. Bliss celebrates with Mickie James on the stage. Mickie tries to cheap shot Becky, but she kicks her out of the ring.

Winner: New WWE SmackDown Live Women's Champion, Alexa Bliss