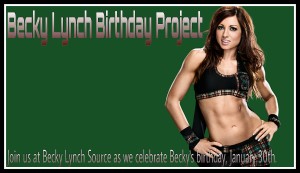 As everyone may know, Becky Lynch's birthday is coming up in 2 weeks. Becky will be turning 28 this year. I am excited to announce that I will be creating a birthday project and will be working with @AG_Sky_ to bring all of these cool things to fruition. If anyone is interested in taking part in Becky's birthday project read the rules and requirements below.
If interested you can submit fan art or personal messages that will be posted on the site. If you would like to participant in the project, you can send in birthday messages or fan made artwork. Send in your part of the birthday project to beckylynchsourcecom@Gmail.com. The deadline for the birthday project is January 27th, 2015.
Also if you are taking part in the project please include your name as well as your Twitter username if you have one when submitting your part of the project. Please be aware that any inappropriate submissions will be deleted and will not be featured in the birthday project.
 If you have any questions, please feel free to email me at beckylynchsourcecom@Gmail.com or on Twitter at @BeckyLSource. Thank you.