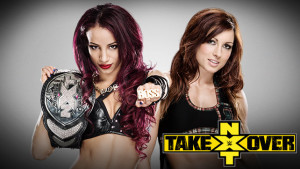 Two of NXT's brightest stars will clash for the NXT Women's Championship at TakeOver: Unstoppable, when Sasha Banks defends her title against Becky Lynch.
The rivalry between the two Divas can be traced back to last October, when Lynch joined forces with Banks. Known as Team BAE (Best at Everything), the two ran roughshod over the NXT Women's division, doing everything in their power to make sure Banks captured the NXT Women's Title. However, their friendship began to fracture after Lynch made it clear she aspired to be more than a lackey to The Boss.
Their tenuous friendship seemed to be a positive as they entered a Fatal 4-Way Match against Charlotte and Bayley for the title at TakeOver: Rival in February, until the championship dreams of both Divas led to a furious butting of heads. At the end of the epic match-up, it was Banks who walked out with the title.
On April 22, Lynch defeated Charlotte and Bayley in a Triple Threat Match to become the No. 1 Contender to Banks' championship. The Irish Diva let The Boss know soon after that it wouldn't be long before the title was around her waist.
The two Divas met in the ring on May 6 to sign the contract for their showdown at TakeOver. Before signing her name on the dotted line, Lynch detailed the journey that started when she was 15 to that very moment, explaining that she didn't come to just be a part of NXT, she came to be a champion. After putting her own stamp (literally) on the contract, Banks attacked Lynch, eventually stepping on Becky's head while holding her title high. However, The Boss took a little too much time to gloat, giving Becky an opening to lock on a devastating armbar that forced Sasha to tap out in the middle of the ring.
Will Becky Lynch's dreams come true or will Sasha Banks show why she's The Boss of NXT? Find out at NXT TakeOver: Unstoppable, LIVE on the award-winning WWE Network on Wednesday, May 20 at 8 ET/5 PT. New subscribers, get WWE Network for FREE the entire month of May, including TakeOver: Unstoppable and WWE Payback. See what you've been missing and sign up now!